Expanding Critical Severe Weather Research With Uncrewed Aircraft Systems
First appeared in OU VPRP Newsroom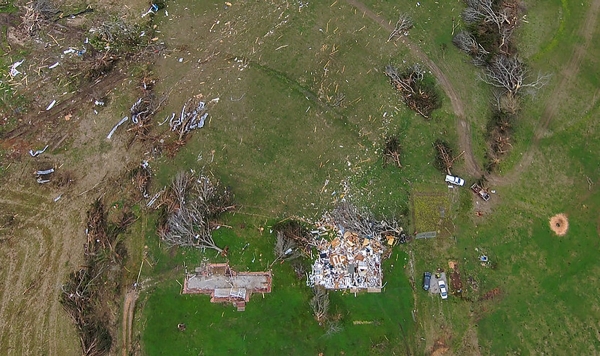 UAS characterization of high wind damage to vegetation and rural area assessments
Two distinguished research organizations at the University of Oklahoma are integrating state-of-the-art observation platforms and expertise in severe storm research. OU's Center for Autonomous Sensing and Sampling (CASS) is becoming part of the observation team at the Cooperative Institute for Mesoscale Meteorological Studies (CIMMS) as of July 1.
Research utilizing uncrewed aircraft systems (UAS) grew within OU's School of Meteorology in 2009 to study atmospheric and weather phenomena. Years later, CASS leveraged OU's expertise in weather, engineering and aviation for research. Now, CIMMS and CASS are joining together to enhance the ongoing research at CIMMS and within the OU community to study severe storms and their impacts.
"CIMMS promotes collaborative research with NOAA on problems of mutual interest in order to improve understanding and produce better forecasts and warnings that save lives and property and reduce economic loses from high-impact weather," said Greg McFarquhar, CIMMS director and professor of meteorology. "It is appropriate that UAS activities are being integrated into CIMMS because they can acquire unique observations in the lowest layer of the atmosphere where other observations may be lacking."
State-of-the-art UAS complement other ground-based observation platforms utilized by OU researchers and collaborators, including Doppler radar. Radar technologies can detect debris from when a tornado hits a structure or vegetation, but cannot gauge the strength of a storm. UAS may provide additional data when combined with such observational ground-based products. Additional tools allow researchers a more complete understanding of severe weather.
"The UAS' ability to collect high-resolution, unique observations of temperature, moisture, and wind is very exciting," said Thomas Galarneau, research scientist and science lead for the Observations and Processes Team at CIMMS. "These data will help improve understanding of how the atmosphere works. Perhaps more importantly, such data have the potential to help improve short-term predictions of severe storm hazards such as tornadoes, damaging winds, hail, and flash floods."
CIMMS can leverage its new observation platform on three main areas of research, including the temperature, moisture, and wind in the lower atmosphere where we live; storm damage to vegetation and the land surface; and the chemical components of the atmosphere.
Researchers at CIMMS are excited to continue CASS's critical research mission, while expanding collaborations with the OU School of Meteorology, NOAA National Severe Storms Laboratory, and other entities.